MINOTAUR SONIC TERRORS - HEAD SPLITTER
DESCRIPTION
The Head Splitter is a very useful tool for every guitarist or bassist. It is a utility pedal, it doesn't alter your sound, and it does what it says. It splits your instrument's signal into two individual outputs that can go into two different amplifiers. Each output has its own on/off switch, so you can trigger output I by pressing out I and output II by pressing out II or of course both. It is NOT an ABY switch, it is more of an amp on/off switch. This way you can place different effects on each amp you are using. For example, if you want to use a fuzz pedal for one amp (AMP A) and use the amp's gain on your other amp (AMP B), you simply connect the fuzz pedal's input to output I and the fuzz pedal's output to your AMP A. Then you connect output II directly to AMP B. This way you'll split your guitar signal to your two amps using a fuzz pedal only on one of them. Of course you can use the fuzz pedal before the Head Splitter, and have your fuzzed tone going to both your amps. The led lights are used to indicate which amp you are using while playing (when both are on you are using both amps).
Created by using:
Heavy Duty die-cast aluminium enclosure
Decal graphics
High quality switches
1% tolerance resistors
Stranded core coper wire
Lead-free (Sn96,3 Ag3,7) solder
This pedal can only be powered up by a standard 9V adapter (like the boss ones with negative in the centre). The DC input is at the top side of the pedal, next to OUTPUT I.
For any questions or issues feel free to contact us
We'll be more than happy to help!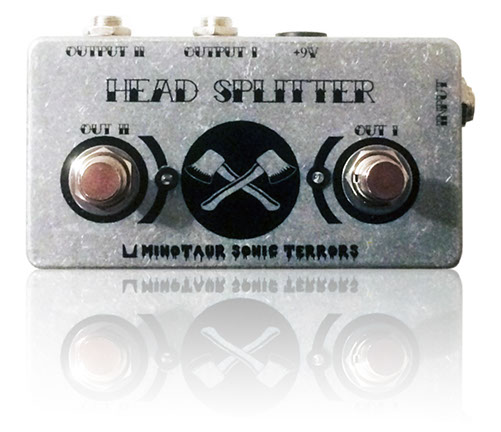 The pedal is 100% built by hand upon order, so the current lead time is 4-6 weeks
© 2022 Minotaur Sonic Terrors. All Rights Reserved.